 Give Mind-Blowing Social Presence To Your Brand Now With Par Excellence Services
Never take any risk related to Social media services for your business's promotion. The best social media marketing UAE services can change the whole scenario of your business's status. Using proper techniques at the right time can change the entire game for a business. Many social media advertising services merely focus on various methods to promote content on platforms like Facebook, Instagram and Twitter. Our social media marketing Dubai agency is leaving no stone unturned to provide up-to-the-mark services to clients.

From small to medium-sized businesses, you can expect us to deliver top-notch quality services.
Get A Free Quote Now!
Strategy
How Do We Provide Valuable Social Media Marketing Services?
It's easier than people think. The matter is all about working harder to develop feasible strategies. Promoting any product directly on a social site by adding a caption is not a game-changing hack for business marketing. It's much more than such a method. Our social media agency Dubai works harder and tirelessly by focusing on all the ways of developing result-driven marketing plans. Social media is based on numerous platforms. Each platform has a distinctive way of advertising a brand. Our agency doesn't only believe in making claims. We offer valuable services that are based on superb results.
Steps We Follow To Provide Incomparable Social Media Promotion Services
This is how we impress our valuable clients. Our entire focus is on providing superior services. Our social media marketing company in Dubai relies on these steps to avoid flaws in marketing services.
We begin the process by conducting in-depth research to find your buyers' information. Also, all the details about the target audience are located so that the content created to market a brand reaches the right people. Our vision is to impress the clients by showing consistent changes in the performance of the business in terms of growth.
The second step is determining the platforms a company wants to market their brand in. Well, this can be done by asking a client. However, if a client needs a platform which can be highly beneficial monetarily for a company, we suggest that too.
It's time to establish helpful KPIs and metrics. This is an important step, and we need to catch all parts. This provides precise stats and helps businesses make future strategies to grow more.
Here, the specific details about the competitors of a company are gathered. This helps us to know the status of each company in the market. Their performance is compared with the performance of a client's firm.
This step is also unavoidable. We are supposed to craft quirkier and more compelling content here. Interesting blogs, articles, short descriptions and other writing pieces attract leads and generate more traffic. Appealing posts increase engagement on each post.
Our social media marketing agency Dubai creates the schedules to upload the posts. We never work on the strategy of sharing multiple posts a day. This isn't a workable tactic. One excellent and engaging post would be enough to grab the attention of potential buyers. The number can be two to three as well. However, the quality still does matter to us more than the quantity.
Quick Digital social media agency Dubai strive to deliver the best results through par excellence services. Our aim isn't just to make money; satisfying a client is also included in the agency's plan for each project.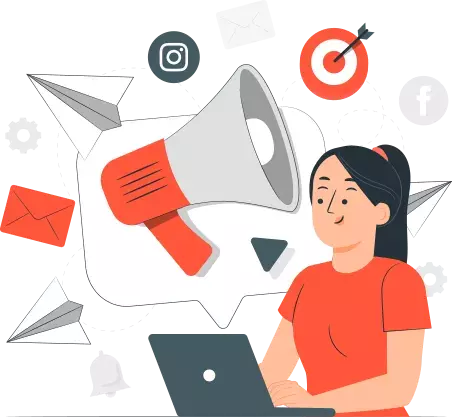 Our
Social Media Agency

UAE Is Worth-Hiring For All True Reasons

Our agency feels proud to have numerous talented individuals. This agency is enough to meet your business's social marketing needs. Do you still overthink before choosing us for Social media marketing help? Are you tired of trying different other social media marketing services in Dubai? Is your business facing challenges in terms of growth due to this issue?
Why

Quick Digital?
It would help if you are looking for engaging, eye-grabbing, and modern content to be posted on social sites. We would turn this dream into reality in no time. The best solution is to find the right option. Quick Digital has profound social media marketers and experts to promote your products and services in a genius way. Hiring our matchless team of marketers would be your best decision. And you would know about it only after hiring our professionals. From writing eye-catching captions to creating attractive visuals, we also focus on sharing the right piece of content at the right time and with the right audience. We have given multiple reasons to be hired by you. Now, it's your choice whether to give us a chance or take the additional risk of trying services from another agency. In UAE, it is hard to find an agency for Social media marketing like us.
Please Make Us Your Foremost Choice For Social Media Advertising Services, And Let Us Turn Your Brand Into The Only Option For The Target Audience. It Merely Requires Your One-Time Trust In Quick Digital. We Won't Disappoint You Then.
Frequently Asked Questions Of The Best Digital Marketing Company In Dubai
What is the importance of social media marketing for a business?
What would be the fee for my business's social media marketing plan?
Is there any risk of sharing confidential info with agencies for social media marketing services l?
Are there any cons to hiring social media marketing services?